PV defeated by River Dell for the second time this season
Indians' season comes to a close
Missed opportunities played a big part in Pascack Valley's 42-6 loss in the first round playoff loss to River Dell on Friday Night.
"You can't allow the team to get the ball back after those turnovers. It just comes down to execution and making plays," Coach Len Cusumano said.
Valley's defense forced two turnovers in the first quarter, both by senior Mike Garay, who intercepted River Dell quarterback Jack Gillies' first pass and later recovered a fumble.
However, Valley was unable to capitalize on the opportunities. After the interception, the PV offense went three-and-out, followed by a missed 32-yard field goal attempt. After the Indians recovered the fumble, Valley would take over from River Dell's 42-yard line and later failed to convert on a fourth down try. 
"Defensively, ripping the ball out, I thought we did a great job," Cusumano said about the early defensive success.
Despite the two turnovers, River Dell still managed to score twice in the opening quarter and lead 14-0 after 12 minutes. The second touchdown came on a 4th down trick play that led to a 52-yard pass by running back Dave Fletcher.
Early in the second quarter, junior QB/DB Stephen Begen recovered a fumble – Valley's third takeaway – to give the offense possession deep into River Dell territory. But once again, the offense couldn't capitalize, turning it over on 4th down. After another scoring drive by River Dell, the Indians trailed 21-0 at halftime. 
The 3rd quarter was more of the same for both teams as River Dell tacked on another 14 points, making the score 35-0 at the beginning of the 4th. The Indians did end up scoring on a late touchdown by Ricky Mizzoni, but the outcome had been all but decided by then. 
River Dell's offense was led by their quarterback duo of Gillies and Mike Sirico. Gillies completed five of ten passes for 93 yards, a touchdown and an interception. Sirico completed both his passes for 59 yards and a touchdown, as well as gaining 27 yards on the ground.
Fletcher and receiver Jack Racine also played significant roles in the offense. Fletcher gained 153 yards and scored two touchdowns on 18 carries, while also recording a passing and receiving touchdown. Racine led the Hawks in receiving, catching three passes for 56 yards and a touchdown while rushing for 31 yards.
Although PV's season, and high school career for each of the team's seniors, ended in blowout fashion, there were a few bright spots. Cusumano, whose team finished 2018 with a record of 3-6, seemed to notice the consistent improvement of Begen, his junior signal caller. 
"He needs to continue to develop with his receivers and continue to develop continuity," Cusumano said. "He did a great job developing his leadership this year."
Box Score: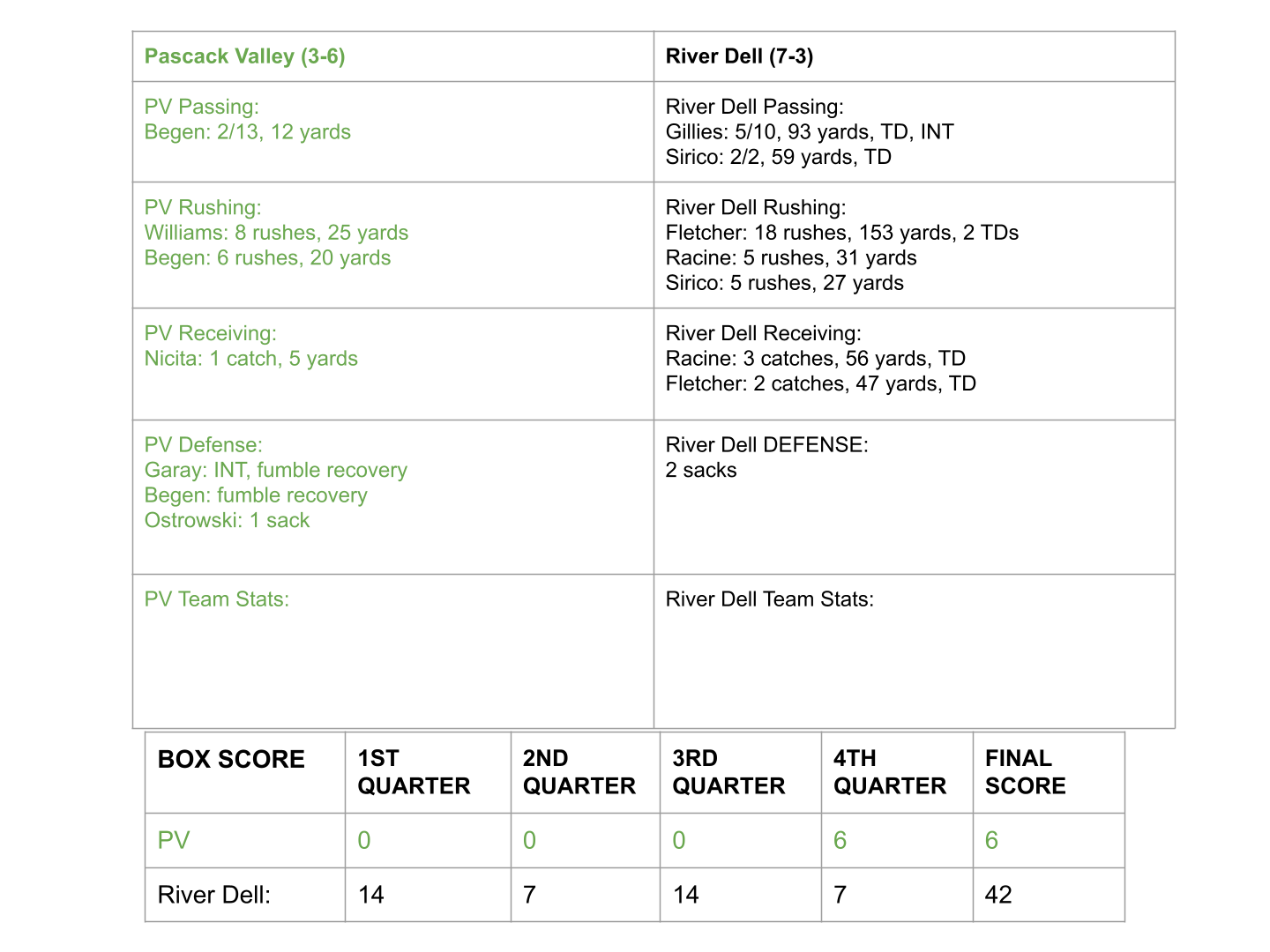 About the Writers
Spencer Goldstein, Editor in Chief
After being appointed sports editor at the beginning of his junior year, Spencer was promoted to co-editor in chief for his senior year. He is excited...
BJ McGrane, Sports Editor
This is BJ's second year as Sports Editor, and he is looking forward to spending his senior year continuing to provide the community with in-depth Pascack...